The research activities of the Sarcoma Team of the Oncology 1 Unit focuses on soft tissue and bone sarcoma research. Primary focus of sarcoma research at IOV is improving outcomes for patients diagnosed with this heterogeneous group of rare diseases, which involves studying new experimental treatments to improve survival as well as quality of life for patients diagnosed with sarcoma, even specific ultrarare subtypes, and the identification of prognostic and predictive marker of response to treatment which can help tailoring treatment.
These outcomes are pursued through collaboration with national and international groups, and in particular with Italian Sarcoma Group (ISG), Alleanza Contro il Cancro (ACC) and Associazione Italiana di Oncologia Medica (AIOM) in Italy; European Organization for Research and Treatment of Cancer (EORTC) and the European Reference Network (ERN) in Europe; and world sarcoma network, a more comprehensive research group which involves all major academic Centers worldwide contributing to sarcoma research.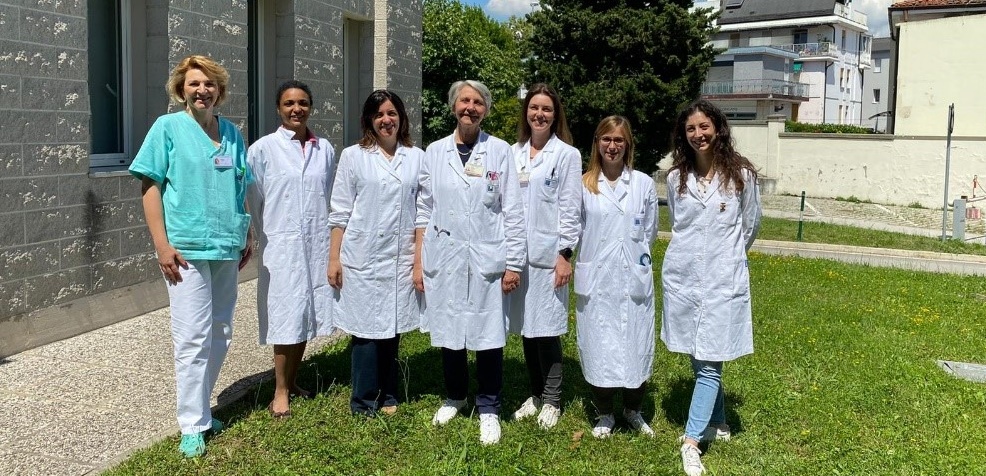 Research activity
Developing novel therapeutics for the treatment of soft tissue sarcoma and bone tumors
Several clinical trials are ongoing at Veneto Institute of Oncology, with main goal of defining new drugs and improve treatment strategies for sarcoma, both for more frequent histological subtypes as well as for rarer subtypes.
Molecularly targeted agents are being studied, after pre-screening with next generation sequencing test to identify predictive biomarkers such as NTRK1/2/3 gene rearrangements.
Combination treatment of chemotherapy and targeted therapies are also being studied (i.e. trabectedin plus olaparib as second or further line treatment for patients with soft tissue sarcoma which has progressed after standard treatment.
Multidisciplinary approach to the disease
Improvement of treatment strategies with optimization of chemotherapy before surgery for localized sarcoma is a subject of active research our sarcoma research team. This is pursued by close collaboration with the Surgery Unit at IOV and with national and international research organization (ISG, EORTC).
Identifying the optimal treatment for older patients with advanced soft tissue sarcoma
Treatment of patients aged 70 years and older with advanced soft tissue sarcoma is challenging. Several factors may contribute to poorer outcome for these patients: comorbid conditions, tumor biology, higher risk of toxicity from standard therapy.
All these factors are taken into account by using a Comprehensive Geriatric Assessment, which provides a multidimensional assessment of older patients. We are coordinating a multicenter trial (the METROPHOLYS study) which compares standard treatment with doxorubicin, with a less toxic treatment which is metronomic cyclophosphamide, as first-line therapy for older patients with advanced soft tissue sarcoma. This study will also help us understand the mechanism of action of these drugs in older patients, by studying immune-related markers, and correlate it with outcomes.
Identifying molecular predictors of treatment benefit in patients with sarcoma
One of main objectives in sarcoma research is to identify new molecular markers which can predict response to treatment and eventually prognosis.
Our research team is involved in basic research studies of such biomarkers, focusing on role of specific translocations and genes in response to treatment, on the role of miRNAs and epithelial-to-mesenchimal transition markers in prognosis, and on the use of next generation sequencing platforms to identify novel genetic alterations and molecular targets in sarcoma.
Team members
Clinical Researchers
Laboratory Researchers
Dr. Cecilia Garofalo, PharmD, PhD
Study Coordinator
Dr. Melissa Ballestrin, PharmD
Research Nurses 
Ms Daniela Grosso, RNs' coordinator
Ms Cristina Magro, RN
Ms Orejeta Diamanti, RN
Internal Collaborations at IOV-IRCCS
External Collaborations 
Orthopedics Clinic, Azienda Ospedale – Università di Padova
Pathology Unit, Azienda Ospedale – Università di Padova
Pediatric solid tumors group, Azienda Ospedale – Università di Padova
International and National Collaborations
ISG (Italian Sarcoma Group)
ACC (Alleanza Contro il Cancro)
EORTC Soft Tissue and Bone Sarcoma Group
European Sarcoma Network (ERN) – EUropean RAre CANcers (EURACAN)