IOV facilities in Castelfranco Veneto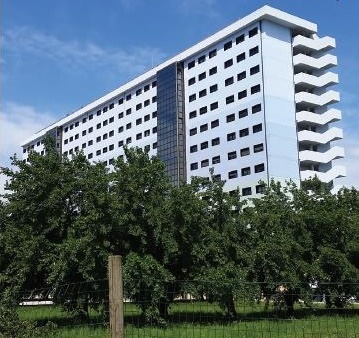 The facilities of the IOV – IRCCS at the San Giacomo Hospital in Castelfranco Veneto were inaugurated on October 6, 2017. The new location became necessary because the IOV has increasingly assumed the role of hub in the Veneto Region for oncology. Moreover, due to the increase in the range of services and activities developed, the limitations of the Busonera Hospital have become increasingly evident, despite the recent extensive renovation and modernization of the buildings.
To respond to these problems, the Veneto Region identified (Deliberation of the Veneto Regional Council n. 1635 of 10/21/2016) the San Giacomo hospital of Castelfranco Veneto (TV) as a site of the IOV. The 2nd, 10th, 11th and 12th floors of the building have been assigned to the IOV, for a total of 138 beds, plus another 25 for extra-regional patients. The seven-step implementation program was drawn up by the IOV and the local health unit, ULSS 2 Marca Trevigiana, for a total investment of 20 million euros.
The wards are predominantly dedicated to the surgical oncology specialties, which complement the current 120 beds of the Padua site, as well as beds and services related to cancer patient pathways that are not fully integrated in the main hospital site, such as pre- and post-operative rehabilitation. The expected specialties include:
Breast Unit
Cardiology
Clinical analysis laboratory
Gynecologic surgical oncology
Oncology
Onco-hematology
Oncology rehabilitation
Pain therapy and palliative care
Pharmacy
Radiology
Radiotherapy
Thoracic surgical oncology