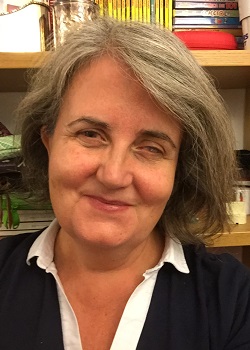 Graduate from medical School and certified in Oncology at the University of Padova, Rita Zamarchi focused on physiology and pathology of the immune system and pathogenic mechanisms of lymphoma in immune-deficient host.
In this contest, she maturated long lasting experience in the principal techniques of cellular immunology and flow cytometry and contributed to the discovery of the genetic control of the CD4/CD8 ratio in human (Nat Med 1995; doi:10.1038/nm1295-1279).
From 2006, she deals with predictive value and biologic significance of Circulating Tumor Cells (CTCs) in solid tumors, coordinating the CTC laboratory at the IOV-IRCCS and collaborating to several national and international Projects in this field.
In particular, she was the Clinical Coordinator of the FP7 study CTCTrap (www.utwente.nl/tnw/ctctrap/), supported by the European Community. Then in 2015, as partner of the CANCER_ID consortium, she won an IMI 11th call on Blood-Based Biomarkers, with a Proposal entitled: "CANCER-ID: Cancer treatment and monitoring through identification of circulating tumor cells and tumor related nucleic acids in blood" (www.cancer-id.eu/).
She developed the algorithm for M30-integrated CTC assay (Clin Can Res 2010; doi: 10.1158/1078-0432.CCR-10-1449) and the brief test for detecting RANK-positive CTCs (Sci Rep 2020; doi.org/10.1038/s41598-020-58339-2). She participates to EPAC group for European Pooled metanalysis of CTCs (Lancet Oncol 2014; doi: 10.1016/S1470-2045(14)70069-5). She is the contact person for the IOV-IRCCS of the European Liquid Biopsy Society (ELBS).
Immunology and Molecular Oncology Unit
– Department of Translational Oncology and Health Services, IOV-IRCCS
Research activity
Liquid biopsy to get precision medicine in solid tumors
Liquid biopsy includes now a biomarkers class, namely circulating tumor cells (CTCs), circulating-free tumor DNA (ctDNA) and tumor-derived extracellular vesicles (tdEVs). Their complementary use tracks tumor evolution over treatment, and allows early detecting drug resistance.
Research topic
Advantage of LB derives from the sample source, since peripheral blood could provide the genetic landscape of all cancerous lesions at any time. To obtain more information from the same sample, we focused on predicting treatment effectiveness by quantifying "druggable" CTCs, whilst ctDNA was collected in parallel to detect actionable mutations.
Background
Technological advance allowed establishing inverse correlations between CTCs and progression-free (PFS) and overall survival (OS) in metastatic cancer of breast, colon-rectum and prostate. Therefore, the Food and Drug Administration approved finally the IVD use of the CellSearch (CS) CTC assay in these three malignancies. Then, CTCs have been reported in several solid tumors, and related to patients' outcome.
Similar, ctDNA is released in circulation from apoptotic, necrotic or viable tumor cells; since total cell-free circulating DNA has poor diagnostic value, ctDNA has exploited for tracking tumor-associated mutations and/or the early onset of drug resistance.
Finally, in peripheral blood of cancer patients we can found the so-called tdEVs, i.e. micro-particles of variable diameter, with or without nucleus. The tdEVs express Epithelial-Cell-Adhesion-Molecule (EpCAM) and Cytokeratin (CK) and lack the leukocyte marker CD45. Recently, tdEVs were reported as a new marker of poor prognosis in lung and prostate cancer.
Research achievements
We demonstrated that CTCs differ for phenotype, genotype and functional properties.
We found that the lack of apoptosis marker (M30) and of IGF-1R expression on CTCs predicts adverse prognosis in MBC treated with first-line chemotherapy. Conversely, the persistence of RANK-positive CTCs determines denosumab effectiveness in preventing skeletal incidents in MBC patients.
In NSCLC, the presence of EpCAM-high CTCs and elevated levels of tdEVs and ctDNA was associated with a poor OS, whilst the presence of EpCA-low CTCs was not.
In a case of TKIs-treated NSCLC, we showed discordances in the detection timing of L858R mutation between the gold standard analysis of tumor specimens, CTCs and ctDNA. This supports their combined use in clinical practice, to better mirror spatial and temporal heterogeneity of the tumor under the selective pressure of treatment.
Similar, in NSCLC EML4-ALK rearranged CTCs and cell-free mRNA (cfmRNA) were associated to patients' outcome, and response to ALK-inhibitors treatment.
By analyzing tissue samples from different sites and time points, in a case of metastatic melanoma we discovered a rare KIT V569G mutation, exclusively in circulating melanoma cells (CMCs). This further underlines the importance of CMCs in the early identification of tumor clones putatively responsible for therapy resistance.
We have been collaborating to international consortia:
EPAC-breast, EPAC-lung, focused on CTC value for disease staging
CTCTrap (www.utwente.nl/tnw/ctctrap/);
CANCER_ID (www.cancer-id.eu/).
Conclusions and perspectives
Multi-parametric analysis of LB markers is starting to shed light on tumor heterogeneity and therapeutic resistance mechanisms, mandatory to realize a true "personalized" treatment.
Team members
Permanent staff
Elisabetta Rossi
Antonella Facchinetti
Maria Chiara Scaini
Fellow
SUPPORTED BY
European community (FP7-HEALTH-2012-INNOVATION-1; Innovative Medicines Initiative, IMI Call 11 / 2013)
Italian Ministry of Health
University of Padova
University of Torino
University of Brescia
IRST Meldola
Istituto Zooprofilattico delle Venezie
Regione Veneto
IOV-IRCCS Intramural 5×1000
AIRC
Cariparo