Prof. Carlo Riccardo Rossi, MD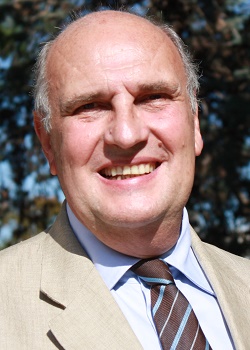 He is particularly involved in medical (mainly adjuvant and neoadjuvant chemotherapy) and surgical treatment of solid tumors, with special regard to melanoma, soft tissue sarcomas and peritoneal carcinomatosis. Moreover, he is involved in locoregional treatments (e.g. isolated limb perfusion, isolated hepatic perfusion, hyperthermic intraoperative intraperitoneal chemotherapy) for locally advanced solid tumors. He is interested in advanced biostatistics (e.g. predictive models, survival analysis, meta-analysis), methodological and statistical aspects of clinical trial design and clinical implementation of the so-called molecularly targeted therapy.
He is also interested in tumor immunology, anticancer active specific immunotherapy (cancer vaccines) and the study of tumor microenvironment during biological therapies (e.g. immunotherapy, TNF, IL-2, IFN). Other active areas of research are mechanisms of tumor responsiveness to biological therapies (e.g. immunotherapy, TNF, IL-2, IFN) both in vitro and in vivo (in humans), identification of novel prognostic and predictive factors, and development of tumor-specific patient-tailored molecularly targeted treatments. Finally, he is involved in the definition of cancer management guidelines by means of implementation of statistically intensive methodologies such as meta-analysis, support vector machine learning models and in defining.
Melanoma and Sarcoma Surgical Oncology Unit Director
– Surgical Oncology Department, IOV-IRCCS
– Full Professor of Surgery, Department of Surgery, Oncology and Gastroenterology, University of Padua, Italy
Research activity
Quality Assurance and cost-effectiveness of clinical pathways for melanoma and sarcomas care
Clinical pathways, based on minimum standard of care, are essential to standardize the clinical approach to tumors. Nevertheless, without an accurate Quality Assurance process and cost-effectiveness control their implementation would be insufficient to assure high standards of care and a sustainable health care system.
Research topic
Epidemiology of soft tissue sarcomas in Europe.
Background
Soft tissue sarcomas (STS) are rare tumors which often undergo to an incorrect treatment. The Connective Tissue Cancer Network (CONTICANET) was established within the 6th European Framework project, including 20 participating Centers from different European Countries, with the aim of improving STS treatment in Europe. Our Group was in charge of WP 6 (epidemiology) devoted to: 1) describing the incidence STS and Gist in three European Regions, 2) evaluating the diagnostic concordance among pathologists, and 3) identifying the determinants of clinical practice guidelines.
Research achievements
Incidence of soft tissue sarcomas and Gists was described and compared in Aquitaine, Rhone-Alps, and Veneto (Mastrangelo G et al, Cancer. 2012).
Evaluation of diagnostic performance showed an overall full concordance among pathologists of 56% (JM Coindre et al, Am J Surg Pathol. 2013).
Adherence to clinical practice guidelines: loco-regional treatment has a significant impact on patients' outcome in the Veneto Region (CR Rossi et al, Ann Oncol. 2013).
Conclusions and perspectives
Findings from these research projects were functional to set-up the recent implementation of clinical pathway for STS and Gists in the Veneto Region. In perspective, a Quality Assurance (QA) program, based on a pre-defined list of indicators, for the treatment of these tumors will be undertaken.
Research topic
Quality Assurance and cost-effectiveness of melanoma treatment.
Background
In melanoma treatment the use of QA measures is less established than for other tumors. This is mostly due to lack of: 1) standardization of some surgical procedure (i.e. lymph node dissection), 2) a shared list of QA indicators, and their referral standards. Moreover, sustainability of the health system is now threaten by the rapid progress of systemic treatments which have impact on patients' survival, but are burdened by high cost.
Research activities
Consensus on melanoma surgical treatment (indications, procedures' extent, list of QA indicators and their related referral standards) has been achieved among most the Centers adhering to the Italian Melanoma Intergroup (IMI) (A Sommariva et al, Eur J Surg Oncol. 2015). Within the same network, the minimum number of lymph nodes to excised for each lymph node dissection has been established (Rossi CR et al, JAMA Surg.). EU-MELACARE (P.I. CR Rossi), an international project launched by European Registration of Cancer Care (EURECCA), involving 16 Centers from different Countries, shows the present inadequacy of real world data registration from melanoma patients in Europe (Sommariva A et al, EJSO 2018), and prompt for new models of data registration in order to set up new trial for treatment QA.
A whole disease model to calculate costs of the Clinical Pathway of melanoma in the Veneto Region has been set up. It allows budget assessment cost-consequences analysis (Buja A et al, G Ital Dermatol Venereol 2018).
Conclusions and perspectives
Minimum standards and QA parameters for melanoma surgical treatment have been established in Italy. An evidence based update of the referral standards for QA is expected from the data analysis of Veneto region population-based, high resolution Melanoma Registry, and an international project devoted to promote QA of melanoma care in Europe is ongoing. In Veneto, the whole disease model is going to produce new economic analysis based on real world data registration.
Team members
Antonella Vecchiato
Alessandra Buja
Paolo del Fiore
Alberto Bortolami
Sandro Tognazzo
Manuel Zorzi
Francesca Falasco
Selected references
Buja A, Rivera M, De Polo A, Zorzi M, Carpin E, Vecchiato A, Del Fiore P, Martin G, Saia M, Baldo V, Rugge M, Rossi CR. Real-world data for direct stage-specific costs of melanoma healthcare. Br J Dermatol. 2020 Jan 29.
Mocellin S, Tropea S, Benna C, Rossi CR. Circadian pathway genetic variation and cancer risk: evidence from genome-wide association studies. BMC Med. 2018 Feb 19;16(1):20.
Faries MB, Thompson JF, Cochran AJ, Andtbacka RH, Mozzillo N, Zager JS, Jahkola T, Bowles TL, Testori A, Beitsch PD, Hoekstra HJ, Moncrieff M, Ingvar C, Wouters MWJM, Sabel MS, Levine EA, Agnese D, Henderson M, Dummer R, Rossi CR, Neves RI, Trocha SD, Wright F, Byrd DR, Matter M, Hsueh E, MacKenzie-Ross A, Johnson DB, Terheyden P, Berger AC, Huston TL, Wayne JD, Smithers BM, Neuman HB, Schneebaum S, Gershenwald JE, Ariyan CE, Desai DC, Jacobs L, McMasters KM, Gesierich A, Hersey P, Bines SD, Kane JM, Barth RJ, McKinnon G, Farma JM, Schultz E, Vidal-Sicart S, Hoefer RA, Lewis JM, Scheri R, Kelley MC, Nieweg OE, Noyes RD, Hoon DSB, Wang HJ, Elashoff DA, Elashoff RM. Completion Dissection or Observation for Sentinel-Node Metastasis in Melanoma. N Engl J Med, 2017 Jun 8;376(23):2211-2222