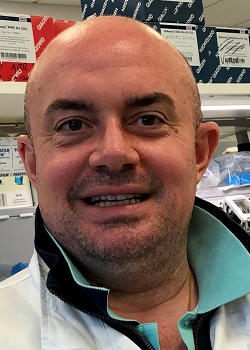 Matteo Curtarello is a Biologist. He graduated with honors in Medical Biotechnology in 2004 and in Cellular and Molecular Biology in 2010 at the University of Bologna. He obtained his PhD Degree in Virology and Microbial Biotechnology in 2008 at the University of Padova.
Since 2009, Matteo Curtarello has focused his research activity mainly on the metabolic effects of anti-angiogenic therapy in preclinical models of epithelial ovarian cancer (EOC). He demonstrated that poorly glycolytic xenografts regressed following protracted anti-VEGF therapy, whereas highly glycolytic tumors became rapidly resistant. Moreover, protracted anti-VEGF therapy selects for highly glycolytic cells and this metabolic switch is stable and precedes tumor relapse. Overall, his results suggest that the highly glycolytic phenotype modulates therapeutic response to anti-angiogenic therapy and could be involved in treatment resistance (Cancer Res., 2015). During this time, he has improved his technical and scientific skills, also thanks to the collaboration with several national/international research groups.
He keeps on investigating the effects of anti-VEGF therapy, focusing his attention on modulation of lipid metabolism (Cells, 2019) and evolution of intra-tumor metabolic heterogeneity, in collaboration with Dr. Stefano Indraccolo (IOV).
Furthermore, he has recently switched to clinical translational research with particular interest to the discovery of prognostic and predictive biomarkers in cancer (Int J Mol Sci., 2020). His research activity, in tight collaboration with Surgical Oncology Unit and Pathology Unit (IOV), is aimed to evaluate the application of liquid biopsy to improve clinical management of patients with gastric-esophageal oncologic disease.
Advanced translational research (RTA) Laboratory
Immunology and Molecular Oncology Unit
Department of Translational Oncology and Health Services