Clinical Research Group on Gastrointestinal Cancers
The Clinical Research Group on Gastrointestinal Cancers of Oncology 1 Unit is dedicated to the promotion of new clinical studies on esophageal, gastric, colorectal, anal, liver, pancreatic and neuroendocrine tumors. The aim of this research is to offer patients new treatment options, identifying specific disease characteristics that allow optimal treatment personalization and access to innovative therapies. The Group's activity is closely linked to that of the Translational Research Group on Gastrointestinal Cancers.
The research promoted by the Group has contributed to the clinical development of molecular target therapies and immunotherapies, with results presented at the most important national and international conferences and published in peer-reviewed scientific journals.
The researchers of the group are active members of the Associations of Medical Oncology AIOM, ESMO and ASCO.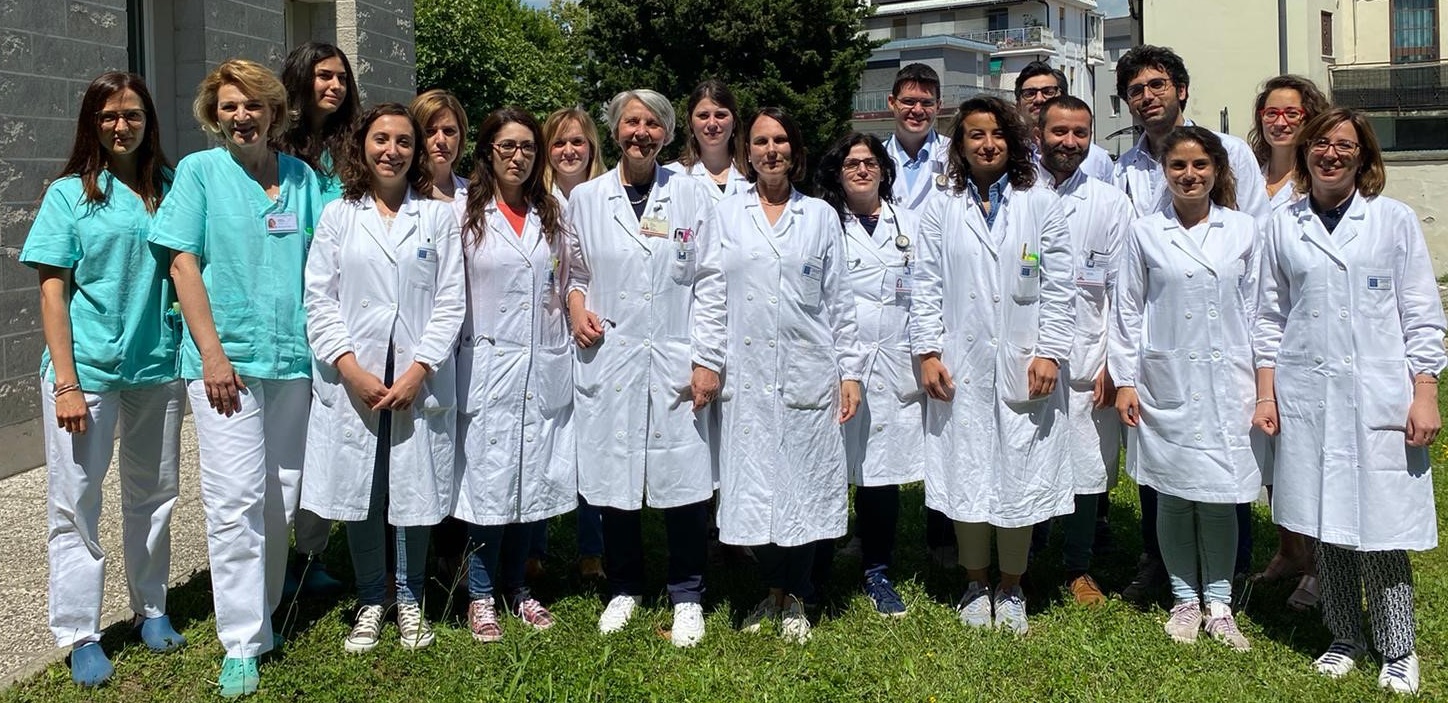 Research activity
Development of tailored treatment: one size do not fits all
Gastrointestinal cancer patients are a heterogeneous population and the right treatment for the right patient remain a challenge. This heterogeneity is related to general conditions, burden and biology of disease, comorbidities and age. To explore the outcome of GI tumors in real world practice and to investigate molecular and clinical characteristics impacting on it, we are running observational, large, disease-specific studies on all the GI cancers. Analyses of these disease specific databases will give the opportunity to improve clinical practice and to generate hypotesis for new clinical researches.
The first treatment personalization is the individualization by age and clinical conditions. Approximately half of cases develop in geriatric patients with worse outcome. A prospective clinical research in elderly/frail patients is evaluating the role of geriatric screening tools and multidimensional tools, that evaluate functional, nutritional, cognitive and psycho-social status before, during and after treatment, aimed to find the right therapy for balancing treatment efficacy with quality of life. Moreover, several clinical trials are ongoing at Veneto Institute of Oncology to identify the best treatment through therapy modulation and new strategy or sequence: from treatments adapted for age and frailty to intensified ones.
Regarded colon cancer in elderly patients, we coordinated PANDA and COBRA trials, aimed to explore dose-adapted treatments (5-FU monotherapy plus antiEGFR, and XELOX plus bevacizumab) in vulnerable elderly patients. In both trials, we also wanted to validate geriatric screening tools. On the other side, the group is involved in several multicenter trials with intensive treatment (with triplet of chemotherapy in association with antiEGFR or antiangiogenic antibodies on the bases of molecular profile) to maximize the response and survival in fit patients. Intensified therapy is under investigation also in locally advanced rectal cancer to maximize the response in order to evaluate rectum sparing approaches and in other aggressive gastrointestinal cancer such as biliary tumors (with association of nab-paclitaxel/gemcitabine/oxaliplatin).
Multidisciplinary approach to the disease
The management of gastrointestinal cancer is complex and involves multiple specialists in an effort to optimize patient outcomes. Besides a multidisciplinary approach to define the plan of care, we collaborate with other specialists to integrate new treatment strategy with systemic therapy. Our fields of research concern:
intra-arterial loco-regional therapy (TARE, TAE and TACE) in gastrointestinal and neuroendocrine tumors;
other loco-regional treatments such as ablation or SBRT (Stereotactic Body Radiation Therapy) of liver or lung metastases;
liver transplant research program for treatment of advanced colon and biliary cancer. Specific area of research includes: chemotherapy before and after transplant, high dose radiotherapy (with chemo) in biliary cancer, imaging studies (with CT scan, MRI and PET), molecular and translational study;
pilot study to verify activity, safety and feasibility of therapy loco-regional by PIPAC (Pressurized IntraPeritoneal Aerosol Chemotherapy) in patients with peritoneal metastasis or primitive peritoneal neoplasms.
New targets for new treatment
Understanding driver molecular mechanisms for tumorigenesis and development of drug resistance provide new insights into drug discovery and design of therapeutic strategies. Targeted therapies, monoclonal antibodies and small-molecule inhibitors, are more tumor-specific and less toxic treatment, and open new possibilities for tailoring cancer treatment.
Several clinical trials are ongoing in GI tumors exploring the efficacy of innovative targeted drugs: antiHER2 drugs in HER2-positive gastric and colon cancer, antiBRAF drugs in V600E BRAF mutated colon cancer, anti-claudin antibodies in claudin-positive gastric tumors, FGFR2 inhibitors in biliary cancers with FGFR2 rearrangements or mutations, ALK/ROS/NTRK inhibitors in gastrointestinal cancers with rearrangements of these genes. The field of targeted therapies is constantly growing in gastrointestinal tumors, and our goal is to offer the patients the wider possibility to receive them promptly.
Immunotherapy is the new frontier
Immunotherapy against cancer is one of the most important achievement in last years. In particular, immune checkpoint blockade was heralded as a major breakthrough in cancer therapy. However, there are still many challenges that must be overcome; in particular, in GI cancer many drugs are still in phase of development.
Treatment with anti-PD1 and antiPD-L1 antibodies (nivolumab, ipilimumab, pembrolizumab, avelumab) represents a large field of research in our center, especially in gastrointestinal cancer with microsatellite instability (MSI-H) where remarkable results have been obtained in terms of survival, response and tolerability. Combination treatment with immunotherapeutic agents and targeted therapies are under investigation in first or later lines in MSI-H colon cancer but also in esophago-gastric cancer in combination with cytotoxic agents plus targeted therapy (i.e. trastuzumab plus chemo and pembrolizumab/placebo), both in neoadjuvant or metastatic setting, and in locally advanced rectal cancer in combination with radiotherapy.
Clinical trials with immunotherapy are ongoing also in hepatocellular carcinoma after surgery as adjuvant therapy or in metastatic setting. One of the most recent immunotherapy field of application we contributed to, is the treatment of squamous anal cancer, setting of the the CARACAS study with cetuximab and avelumab or avelumab alone we coordinated.
team members
Clinical Researchers
Fellows – Specializing in Oncology, University of Padua
Dr. Giulia Alberti
Dr. Floriana Nappo
Dr. Antonio Pellino
Dr. Giulia Maddalena
Dr. Cosimo Rasola
Research Nurses 
Ms Daniela Grosso, RNs' coordinator
Ms Carolina Fano, RN
Ms Cristina Magro, RN
Ms Giulia Zanella, RN
Study Coordinators
Federica Buggin
Elena Carcea
Veronica Di Antonio
Valentina Vettore
Ettore Marrancone
Internal Collaborations at IOV-IRCCS
External Collaborations
Surgical Pathology Unit, Department of Medicine (DIMED), University of Padua.
Clinica Chirurgica 1, Department of Surgery Oncology and Gastroenterology (DiSCOG), University of Padua.
Clinica Chirurgica 3, DiSCOG, University of Padua.
Hepatobiliary Surgery and Liver Transplantation Unit, DiSCOG,, University of Padua.
Thoracic Surgery Unit, Department of Cardiologic, Thoracic and Vascular Sciences, University of Padua.
National and International Collaborations 
GISCAD Group (Italian Group for the Study of Digestive Tract Cancers)
GONO Group (Gruppo Oncologico del Nord Ovest)
IFOM (Istituto FIRC di Oncologia Molecolare)
ESMO ASIA Scientific Committee
Accent Data Base Steering Committee (Mayo Clinic)
ASCO Scientific Committee