Dr. Chiara Menin, Biologist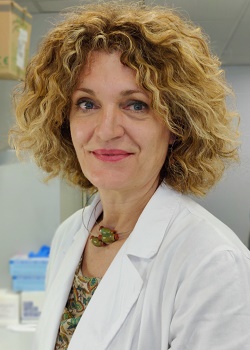 Degree in Biological Sciences at the University of Padova, Dr. Menin works as Research Assistant at the Immunology and Diagnostic Molecular Oncology Unit of IOV, where she leads the laboratory for the genetic studies and analyses of the cutaneous melanoma.
Dr. Menin is faculty member of the School of Doctorate in Clinical and Experimental Oncology and Immunology of the University of Padova and active member of the Italian Multidisciplinary Group on Melanoma (IMI) and of the International MelaNostrum Consortium. She is holder of a contract funded by the National Cancer Institute (Bethesda, USA) for international collaborative studies focused on the pathogenesis of the cutaneous melanoma.
The main research topics followed over the years were focused on lymphomogenesis in animal models and in immunosuppressed subjects; clonal analysis of immune gene rearrangements; mutational analysis of tumor suppressor genes.
Actually, her principal scientific interests are the genetic risk factors for the cutaneous melanoma. Rare high-penetrance and common medium/low-penetrance factors are researched and assessed in a context of familial cancer history and presence of non-genetic risk factors. The major objective is to improve the knowledge of the genetic basis of familial melanoma, also within the wider framework of the melanoma cancer syndrome characterized by the presence of different tumors.
Other research interests encompass the molecular mechanisms of resistance to targeted therapy in advanced melanoma and the molecular genetics markers of pathogenesis and prognosis of the melanoma.
She has contributed to more than 65 original research papers, published in peer-reviewed journals.
Melanoma genetics Laboratory
Immunology and Molecular Oncology Unit
Department of Clinical and Experimental Oncology
Research activity
Genetic risk factors for cutaneous melanoma
Broadening the knowledge of the genetic basis of the melanoma susceptibility aiming at identifying the genetic traits responsible for an increased cancer risk, and therefore useful to identify the high-risk individuals to be referred to specific health surveillance.
Molecular classification of cutaneous melanoma and molecular markers for prediction of the targeted therapy response in the advanced melanoma
Broadening the knowledge of the molecular alterations that occur during the progression of melanoma with the aim of identifying genetic markers useful in the prognosis and therapy of melanoma patients.
Team members
Permanent staff
Ph.D students
Fellows
SUPPORTED BY
IOV 5×1000 Grants
Alleanza Contro il Cancro (ACC) – Ministero della Salute
National Cancer Institute agreement
Selected references
Landi MT, Bishop DT, MacGregor S, Machiela MJ, Stratigos AJ, Ghiorzo P, Brossard M, Calista D, Choi J, Fargnoli MC, Zhang T, Rodolfo M, Trower AJ, Menin C et al. Genome-wide association meta-analyses combining multiple risk phenotypes provide insights into the genetic architecture of cutaneous melanoma susceptibility. Nat Genet. 2020; 52:494-504.
Del Bianco P, Stagni C, Giunco S, Fabozzi A, Elefanti L, Pellegrini S, Vecchiato A, Pigozzo J, Zamuner C, De Rossi A, De Nicolo A, Menin C. TERT Promoter Mutations Differently Correlate with the Clinical Outcome of MAPK Inhibitor-Treated Melanoma Patients. Cancers (Basel). 2020; 12. pii: E946. doi: 10.3390/cancers12040946.
Schlafly A, Pfeiffer RM, Nagore E, Puig S, Calista D, Ghiorzo P, Menin C, Fargnoli MC, Peris K, Song L, Zhang T, Shi J, Landi MT, Sampson JN. Contribution of Common Genetic Variants to Familial Aggregation of Disease and Implications for Sequencing Studies. PLoS Genet. 2019; 15:e1008490. doi: 10.1371/journal.pgen.1008490.