Dr. Samantha Serpentini, Psychologist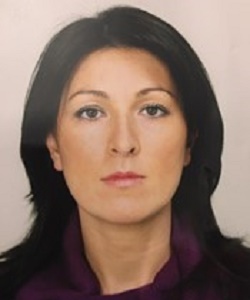 Dr. Serpentini obtained her degree in Psychology from the University of Padua. Subsequently she completed: a postgraduate course in Bioethics (University of Padua); an international master's degree (University of Padua, Karolinska Institute, University of Oporto, University Paris XII) in Health Promotion, supported by the WH0; a master's degree in Palliative Care (University of Bologna); a master's degree in sexuality (University IUSVE, Mestre); a master's degree in Health Management (University Bocconi, Milan). From 1999 to 2010 she obtained several fellowships from the University-Hospital of Padua to conducting research in psycho-oncology and palliative care, particularly focused on psychological well-being and quality of life of cancer patients. Since 2012 she has been a research consultant in the Veneto Institute of Oncology (Padua, Italy); in collaboration with the Notre Dame University (Indiana, USA) and University La Sapienza (Rome, Italy) she investigated the role of self-efficacy in coping with cancer. Since 2017 Dr. Serpentini has a full-time position as clinical psychologist in the Veneto Institute of Oncology, with also research commitments, referent for the psycho-oncology service of the Breast Unit. Since 2000 she is a contract professor in the University of Padua.
Dr. Serpentini visited several cancer centres in the world, she has numerous publications and she has given over 100 invited lectures. In 2014, she received a national award from the University of Bologna for excellence in research. Since 2012 she is active member of the EORTC Quality of Life Group and since 2016 she is member of the Bioethical Committee of Veneto Region.
Psycho-oncology unit/Breast Unit
– Department of Translational Oncology and Health Services, IOV-IRCCS
Research activity
The role of self-efficacy in coping with cancer
The concept of personal self-efficacy for coping with cancer represents a key concept in the management of quality of life and the psychological well-being of patients.
Background
The evidence for the importance of self-efficacy for coping in the context of oncology and in palliative care is connected to its relationship with not only self-care but also with adjustment and quality of life. Self-efficacy theory has a long history of guiding assessment and interventions in many health domains, including cancer. Generally, greater self-efficacy for coping has been positively associated with adjustment to cancer, quality of life (QOL), positive mood, and treatment seeking and negatively correlated with cancer symptoms. There is an increasing interest in the role of self-efficacy with regard to patients with advanced cancer and those in palliative and supportive care. The challenges that advanced cancer patients may face in palliative care include dealing with severe symptoms of pain and fatigue, and having the functional capacity to manage their lives independently. Also, patients receiving palliative and supportive care may have more basic, proximal and short-term QOL goals involving specific physical and emotional challenges.
From this perspective, the concept of personal self-efficacy for coping represents a key concept in the management of quality of life and the physical and psychological well-being of patients.
Research achievements
Our research provides an integrative picture of the global and multidimensional condition of a representative sample of Italian advanced cancer patients, highlighting the specific cultural differences in the process of adaptation to cancer.
We also contributed to develop high quality measures able to give more objectivity to the global needs of cancer patients and useful in identifying specific self-efficacy goals for coping in structured psychosocial interventions.
In the scenario of modern oncology, it's crucial to receive information directly from patients about their physical and psychological condition; identifying patients' problems means having adequate information in order to guide psychosocial interventions towards a more personalized approach to care. In line with the new and emerging models of palliative and supportive care, patients are being encouraged to be active agents in their medical care in terms of negotiating the challenges that they confront.
Conclusions and perspectives
In order to improve clinical practice in oncology and palliative care, it would be useful to identify the specific level of self-efficacy for coping in patients that could be considered clinically critical. This could be an important resource both in the identification of patients' adaptation process and in structuring specific psychosocial interventions that are personalized and tailored. Because self-efficacy is a specific mutable factor that can be facilitated with specific psychosocial treatments, it can become a focal point of interventions. This research contributes to those new directions.
Team members
Permanent staff
Fellows
MSc students
Rossella Amatulli
Silvia Stoppa
Selected references
Bjelic-Radisic V, Cardoso F, Cameron D, Brain E, Kuljanic K, da Costa RA, Conroy T, Inwald EC, Serpentini S, Pinto M, Weis J, Morag O, Lindviksmoen Astrup G, Tomaszweksi KA, Pogoda K, Sinai P, Sprangers M, Aaronson N, Velikova G, Greimel E, Arraras J, Bottomley A; EORTC Quality of Life Group and Breast Cancer Group. An international update of the EORTC questionnaire for assessing quality of life in breast cancer patients: EORTC QLQ-BR45. Ann Oncol. 2020 Feb;31(2):283-288.
Serpentini S, Del Bianco P, Chirico A, Merluzzi TV, Martino R, Lucidi F, De Salvo GL, Trentin L, Capovilla E. Self-efficacy for coping: utility of the Cancer behavior inventory (Italian) for use in palliative care. BMC Palliat Care. 2019 Apr 5;18(1):34.
Merluzzi TV, Serpentini S, Philip EJ, Yang M, Salamanca-Balen N, Heitzmann Ruhf CA, Catarinella A. Social relationship coping efficacy: A new construct in understanding social support and close personal relationships in persons with cancer. Psychooncology. 2019 Jan;28(1):85-9.